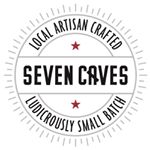 Part 1 - Seven Caves Spirits
Seven Caves Spirits is one of San Diego County's distilleries.
Currently located in the neighborhood of Miramar; we had a Willy Wonka-like experience with the owner, Geoff Longenecker. He prides himself on creating unique and diverse batches of distilled spirits. We actually had a rare chance to taste a one of a kind delicious gin coming right out of the still at over 150 proof. CRAZY AWESOME RIGHT?
Hope you enjoy the show.
Host(s) include:
Invited guest(s) include:
Brent
Topics and honorable mentions to this podcast episode:
01:53 - And we begin our juniper-orange gin experience
02:43 - What kind of oranges? Valencia oranges, blood oranges, and cara cara oranges
06:15 - Re-distilled if not consumed within 60 days
07:23 - Jackie explains her typical gin bar experience
08:13 - Craft gin is a thing right now
09:05 - Gin batch no. 001
11:30 - Bourbon used to be dad's drink
13:28 - Getting a little deeper in gin run...batch no. 002
14:02 - Zero sugar in distilled spirits
17:20 - What's in this place?
18:13 - I don't believe in uniformity of my product
20:47 - Open unjacketed fermentation
21:40 - Fingering freshly distilled 160 proof gin right out of the still (aka Willy Wonka experience)
28:58 - What's your background?
30:47 - Tank of shame and super-conservative cuts to the alcohol
35:24 - Adding sugar masks the complex flavors of rum
39:44 - 3 things that happen when becoming a distiller
41:45 - Barrel aged rum maple syrup (aka 'crack cocaine in a bottle'), but first...let's do a cocktail
43:35 - Paper plane cocktail: 1-part Seven Caves rum, 1-part Aperol, Amaro, blood oranges (or 'Gummy Bear' cocktail coined by Julie)
FruitCraft Fermentery and Distillery
Sugar wash for rum base
Grain neutral spirit (pre-bought)
Mash tun, fermenting tanks, and plate column stills
Reflux in distillation
Reverse osmosis water
Bill Rogers (Liberty Call Distilling LLC)
Farm-to-Table trend
Thank you Geoff for allowing SDCC to record our podcast at your 'mad scientist-like' distillery. We look forward to our next encounter.
Cheers, salud, and kanpai!